Pioneering the Hopeful Economy
5:30-8:30pm Apr 21, 2017
100-510 Beatty Street
The Home-THNK School of Creative Leadership
LOCO is partnering with Hopeful Economics to bring local businesses and progressive municipal politicians and staff together for an evening of networking, local food and drinks, and inspiring interviews with economic pioneers and authors Judy Wicks and Joel Solomon. 
Judy Wicks is an activist, entrepreneur, and local economy pioneer. She is an author, speaker and mentor working to build a more compassionate, environmentally sustainable and locally based economy. Author of the award-winning memoir Good Morning Beautiful Business, Judy is the founder of the White Dog Cafe and a pioneer in the localization movement. Her passion will inspire you, and her years of experience as a social entrepreneur can help other business owners forge a path to cultivate lasting relationships with each other and the planet. Judy has truly set out to change neighbourhoods, but also the work – helping communities far and wide create local living economies that value people, nature and place more than money.  
Books will be available for purchase at the event, and Judy will be available for a book signing. 
Joel Solomon is Co-Founder and Chair of Renewal Funds, Canada's largest mission venture capital firm, with $98 million under management. Renewal Funds invests in Organics and Envirotech. With Founder + Funder Carol Newell, Joel implemented a "whole portfolio activation to mission" strategy of her "activist family office". As ED of the Endswell Foundation, they spent down a $20 million endowment, leaving Tides Canada and Hollyhock as legacy charities while supporting BC's renowned environmental community. As CEO of Renewal Partners' seed capital fund over $10 million was placed into dozens of green companies. Joel's new book The Clean Money Revolution: Reinventing Power, Purpose and Capitalism, calls for the reinvention of power, purpose and capitalism, with a view on the opportunity provided by the $50 trillion that will change hands from Boomers to Millennials in North America alone by 2050. It calls for the reinvention of capitalism for just prosperity, harnessing the moral power of what our money does to people and places.
Books will be available for purchase at the event, and Judy will be available for a book signing after her talk.
Register using the event widget below or on the event page (on mobile devices).
Thanks to our event partners:
Venue partner: 

Event partner: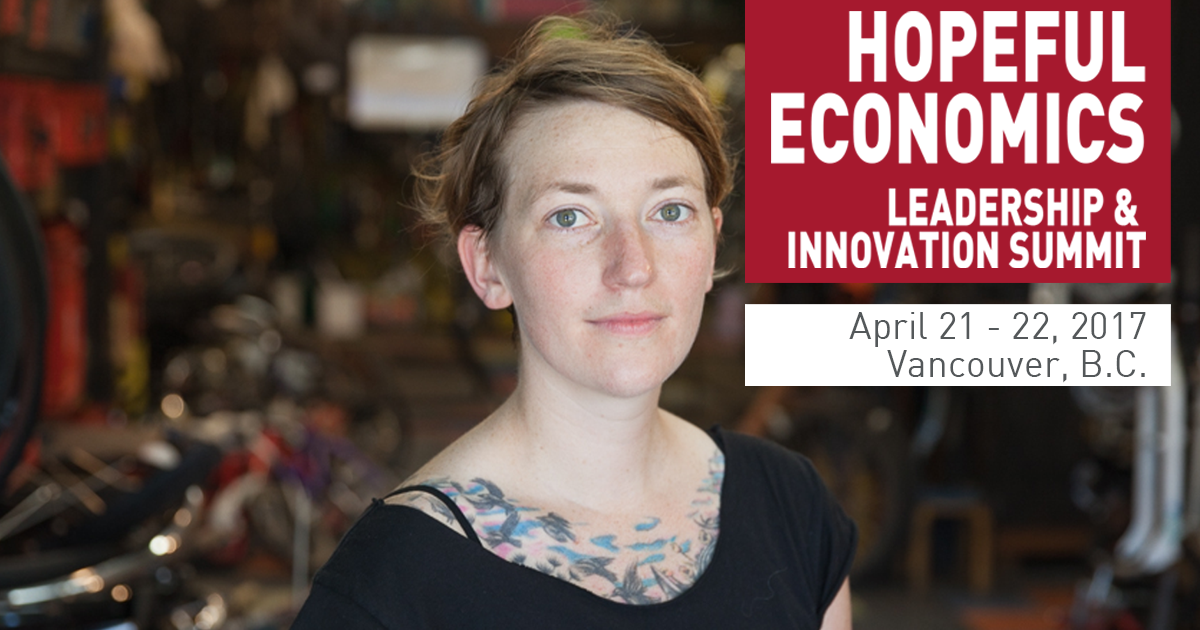 Hopeful Economics: Leadership & Innovation Summit will showcase inspiring and untold stories of social innovation from Western Canada and beyond. Co-hosted by SFU Community Economic Development and the City of Vancouver, Hopeful Economics: Leadership & Innovation Summit features two full days of workshops, speakers and panel discussions, as well as a social enterprise study tour and a social innovation challenge (basically a really friendly dragon's den where participants can pitch their social impact ideas). Attendees will be a mix of municipal staff and leaders of communities both urban and rural, non-profit organizations, social entrepreneurs, private sector partners looking to enhance their community impact goals, community activists and change-makers of all kinds. Register today!
First Tuesday Monthly Business Mixers
Our events are hosted by our members. Think factory, store and warehouse tours with good local food, drink and business connections old and new. It's a chance for our members to get to know each other, strengthen community and leverage our network to support a stronger local economy.
Events are on the first Tuesday of each month. Drinks and food are included in the ticket price. For event notifications, make sure you sign up for our newsletter (bottom right corner).